The Seven Churches - Turkey Highlights
The Seven Churches - Turkey Highlights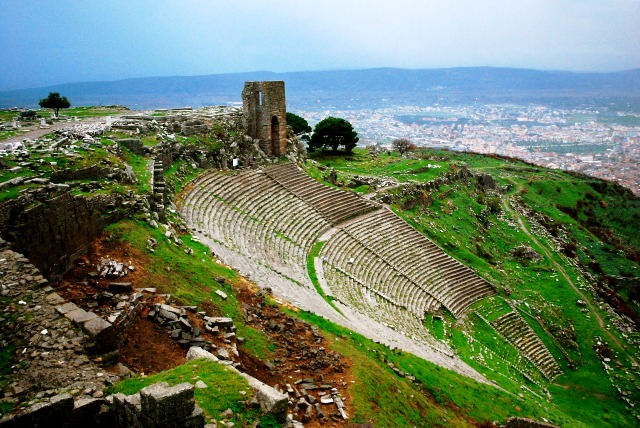 <
Tour date: All year around
Tour type: Private groups and individual
Tour price: Please contact us
Tour photos
Tour Details
DAY 01- ISTANBUL
Arrival in Istanbul and meeting at the airport, transfer to the hotel, check- in. Leisure afternoon. Overnight Istanbul.

DAY 02- ISTANBUL
Full day guided sightseeing in Old Istanbul. Discovery of Sultanahmet, Blue Mosque, St. Sophia, Hippodrome, Topkapi Palace and Grand Bazaar. Overnight Istanbul.
DAY 03- ISTANBUL
Guided Bosphorus Cruise with Dolmabahe Palace. Visit to the exotic and aromatic Egyptian Spice Market, cross over to Asia to Camlica Hill for a view of Istanbul. During the cruise, view of Ottoman seaside mansions, marble palaces and small fishing villages. Overnight Istanbul.

DAY 04- ISTANBUL- IZMIR -SMYRNA
Take the early morning flight from Istanbul to Izmir. Arrival and meet with your guide and drive to Pergamum (Revelation 2:12-17), and visit to Acropolis and Asklepion. its majestic acropolis was built on a commanding hill above the modern city of Bergama. After lunch visit the grand theater, which has almost perfect acoustics, the Red basilica and the ancient medical center, the Asclepion. This was the home town of Galen, the second century renowned doctor and surgeon and his temple, the asclepium was devoted to healing. Then visit the majestic acropolis in Pergamum . Visit Acropolis and Asclepion. After visits, drive and check-in to your hotel in Kusadasi. Overnight- Kusadasi.
DAY 05- KUSADASI - EPHESUS- KUSADASI
Ephesus (Revelation 1:11, 2:1-7, Acts 18:19-28, 19:1-41, Ephesians) the city dedicated to Artemis, the best preserved ancient city of Asia Minor with its majestic theater, marble road, Temple of Artemis, the Church of the Virgin Mary or the Double Church, the library of Celsus, the stadium, the lecture hall Tyrannus where St. Paul held daily discussions (Acts 19.9). For two years St. Paul taught here from eleven to four during the hottest hours of the day when the hall was empty. Then visit the Church of St. John and his Tomb in Selcuk before driving to the Last Home of the Virgin Mary, who was brought to Ephesus by John, the beloved disciple of Jesus. The home of Virgin Mary on a hill top, where she lived out her days is now visited by over a hundred thousand pilgrims each year. The pilgrims drink the water of the sacred spring, meditate and pray for health at this ancient spot of worship. Both Pope Paul VI in 1967 and Pope John Paul II in 1979 have celebrated mass here. Overnight Kusadasi.

DAY 06- KUSADASI- SARDIS- PHILADELPHIA- PAMUKKALE
After having breakfast drive to Sardis where visit to ancient synagogue, one of the most picturesque area of any of the churches. Visit the Temple of Artemis, a small Byzantine church, a recently restored gymnasium and the great synagogue Lunch and we continue, proceed to Philadelphia (Revelation 3:7-13 ). Continue to Alasehir ancient (Philadelphia) the city of brotherly love, another of the cities of Seven Churches. Afternoon drive to Hierapolis. Have a tour of the spectacular natural site of Pamukkale. Its hot thermal springs of calcium spill over the plateau's edge creating dazzling white formations called Cotton Castles. Visit the ruins of Hierapolis which also was the home of Papias and Epicitus, early Christian writers and Philip the Evangelist. The Martyrium of St.Philip, an octagonal chamber has recently been discovered. Overnight Pamukkale.
DAY 07- PAMUKKALE- LAODICEA- APHRODISIAS
AMorning visit to Eskihisar, the ancient Laodicea (Revelation 3:14-22, Colossians 2:1, 4:13-16), then drive to Aphrodisias, the city of the Goddess of Love, see the well preserved Stadium, The Temple of Aphrodite, the Odeon, the theater, Agora and Hadrian Bath. Overnight Pamukkale.
DAY 08- PAMUKKALE- CAPPADOCIA
Drive to Cappadocia On the way, visit to Konya (Iconium) and have stop by Mevlana temple and Sultanhani Caravanserai on the way to Cappadocia. Overnight Cappadocia.
DAY 09- CAPPADOCIA
Guided discovery of Cappadocia. Visit to Goreme Open Air Museum with cave churches, devrentimagination valley, Uchisar Rock Castle, Fairy Chimneys in Pasabag , Avanos. Overnight Gamirasu Cave Hotel Cappadocia.
DAY 10- CAPPADOCIA
Tour to Underground city, Soganli valley, Sobessos mosaics, Keslik monastery and Mustafapasa old Greek town. Overnight Gamirasu Cave Hotel Cappadocia.
DAY 11- CAPPADOCIA
Walking in Ihlara Canyon, a "mirage" in the Steps of Anatolia up to Belisirma village, the ancient Peristrema: "Valley of the Sky" along the Melendiz River. Rock-cut churches, spread across a wild plantation, surprise you with their successfully painted representations from the Bible. Lunch in Belisirma a local restaurant by the river. Stop by Selime, a village with cave houses at the end of the canyon and a "star wars" like landscape. Overnight Gamirasu Cave Hotel Cappadocia.
DAY 12- CAPPADOCIA- TARSUS -ANTIOCH
Drive to Tarsus where St. Paul was born, after visits, drive to Hatay (biblical Antioch) and Overnight in Hatay (Antakya).
DAY 13- ANTIOCH
Visit to mosaic museum that houses one of the richest collections of Roman mosaics in the world. A little outside the city is the holy site where St.Peter's Grotto is situated. The cave church is the place where St.Peter preached and founded the Christian community. It was declared as a holy place by Vatican in 1983.Overnight in Hatay.
DAY 14- ISTANBUL
Drive to Adana and take a flight to Istanbul.
 

Biblical References
Antakya (Antioch)
Seleucia Pieria
Tarsus
Derbe
Lystra
Konya (Iconium)
Antioch of Pisidia
Antalya (Attalia)
Perge(Perga)
Myra
Patara
Miletus
Colossae
Hierapolis
Assos
Alexandria Troas


:
:
:
:
:
:
:
:
:
:
:
:
:
:
:
:


Acts 6:5; 11:19-30 13:1-3 15:1-2, 22-35
Acts 13:4
Acts 9:11,30,11:25.21-39,22:3,25-29
Acts 14:6,20-21,16:1,20:4
Acts 14:6-23 16 :1-4 II Timothy 3:11
Acts 13:51;14:1-6, 19; 16:2, II Timothy 3:11
Acts 13:14-52, II Timothy 3:11
Acts 14-25
Acts 13:13-14;14:25
Acts 27:5-6
Acts 21:1-2
Acts 20:15-38 II Timothy 4:20
Colossians
Colossians 4:13
Acts 20:13-14
Acts 16:8-11, 20:5-12
II Corinthians 2:12-13
II Timothy 4:13
WHAT IS INCLUDED?
* Arrival, departure airport transfers and ground transportation.
* Transportation in non-smoking mini/midi bus with professional English speaking guide and experienced driver.
* All accommodation at selected category 3/4/5 star or boutique hotel
* All of the excursions mentioned in the schedule 
* All of the meal mentioned in the itinerary (B-breakfast, L-lunch & D-dinner)
* Entrance to the various sites
* Services charges and local taxes
WHAT IS NOT INCLUDED?
* Tips to staff, items of a personal nature.
* Drinks with meals (except the drinks served with breakfast).
* Domestic and International flight tickets.