The Seven Churches of Revelation and Istanbul
The Seven Churches of Revelation and Istanbul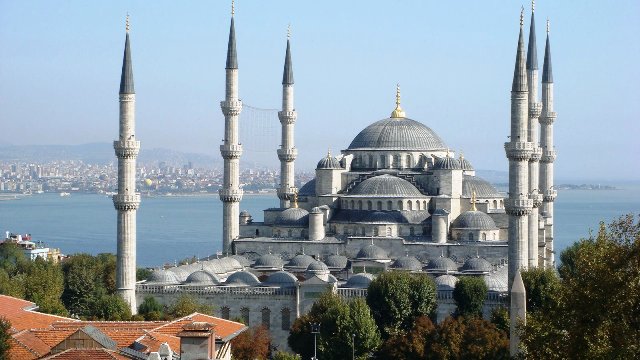 Tour date: All year around
Tour type: Private groups and individual
Tour price: Please contact us
Tour photos
Tour Details
DAY 1 - Arrival in Istanbul
Arrival in Istanbul and transfer to your hotel. Overnight in Istanbul.
Day 2: Byzantine and Ottoman Relics Tour
Breakfast at hotel and begin full day sightseeing tour of Istanbul. We'll visit Topkapi Palace (harem section is optional), ancient Roman Hippodrome (center of the chariot races) and proceed to the Hagia Sophia, the Byzantine church which was converted to a mosque in 15th century. We will continue our Sultanahmet tour with the Blue Mosque and finally we will stop at Grand Covered Bazaar and will have free time to discover 4000 tiny shops in the passageways of the world's largest covered bazaar. Overnight in Istanbul. Breakfast Lunch
Day 3: Half Day Morning Bosphorus Cruise
8:30 are - You will be picked-up from your hotel to visit the Spice Bazaar (or Egyptian Bazaar). Filled with spices, dried fruits, nuts and seeds, lokum (Turkish delight) and other edibles, Spice Bazaar has a smell of the fragrance of the exotic East. Then join a boat excursion on the Bosphorus on a shared tour. Enjoy viewing Ottoman palaces, Bosphorus Bridge, citadels, centuries-old mansions and the European and Asian shorelines at the same time. At the end of the tour, you will be dropped back to your hotel at approximately 1:00 pm. overnight in Istanbul. Breakfast
Day 4 Ephesus and Laodicea
Ephesus, one of the "Seven Churches of Revelation". Visit to St. John Basilica and the, Last abode of Virgin Mary at Mount Solmissos. Visit to the old Greco-Roman city of Ephesus, most important of the "Seven Churches of Asia Minor", where St. John brought Mary in fulfillment of his pledge to Jesus to protect her, she is believed to have taken into heaven. After lunch, continue to Laodicea a Crossroads of the ancient world .Overnight stay in Pamukkale. Breakfast Lunch Dinner
Day 5 Pamukkale, Sardis and Philadelphia and Thyatira
In the morning, we visit the ancient city of Hierapolis home of Philip the Evangelist. Have a break at the calcium terraces of Pamukkale later on proceed to Philadelphia. Philadelphia (Alasehir), the youngest of the "Seven Churches of Revelation", visiting the still standing remains of an early church and the city walls Lunch on the way. In the afternoon visit, ancient city and ruins of the famous church of Sardis the ancient Lydian capital. Later on the remains of the church of Thyatira than drive to Pergamon where we overnight stay. Breakfast Lunch Dinner
Day 6 Pergamon
Departure after breakfast for Pergamon (Bergama), the place where, wrote St. John to the church of Pergamon, "Satan's throne is sited. Visit the Church of Pergamon, the red-court, Acropolis, after lunch; we drive to Smyrna (Izmir), recipient of a letter from St Paul praising the early believers for their faithfulness. Visiting to St. Polycarp Church and a short tour of the city at the end of the tour, transfer to the Izmir Airport for the flight to Istanbul Overnight Stay in Istanbul … Breakfast Lunch
Day 7 Istanbul
Free time till transfer to airport for the flight back to home or you can add on one our tour packages for extension
Biblical References
Antakya (Antioch)
Seleucia Pieria
Tarsus
Derbe
Lystra
Konya (Iconium)
Antioch of Pisidia
Antalya (Attalia)
Perge(Perga)
Myra
Patara
Miletus
Colossae
Hierapolis
Assos
Alexandria Troas


:
:
:
:
:
:
:
:
:
:
:
:
:
:
:
:


Acts 6:5; 11:19-30 13:1-3 15:1-2, 22-35
Acts 13:4
Acts 9:11,30,11:25.21-39,22:3,25-29
Acts 14:6,20-21,16:1,20:4
Acts 14:6-23 16 :1-4 II Timothy 3:11
Acts 13:51;14:1-6, 19; 16:2, II Timothy 3:11
Acts 13:14-52, II Timothy 3:11
Acts 14-25
Acts 13:13-14;14:25
Acts 27:5-6
Acts 21:1-2
Acts 20:15-38 II Timothy 4:20
Colossians
Colossians 4:13
Acts 20:13-14
Acts 16:8-11, 20:5-12
II Corinthians 2:12-13
II Timothy 4:1
WHAT IS INCLUDED?
* Arrival, departure airport transfers and ground transportation.
* Transportation in non-smoking mini/midi bus with professional English speaking guide and experienced driver.
* All accommodation at selected category 3/4/5 star or boutique hotel
* All of the excursions mentioned in the schedule 
* All of the meal mentioned in the itinerary (B-breakfast, L-lunch & D-dinner)
* Entrance to the various sites
* Services charges and local taxes
WHAT IS NOT INCLUDED?
* Tips to staff, items of a personal nature.
* Drinks with meals (except the drinks served with breakfast).
* Domestic and International flight tickets.