Foot steps of Saint Paul in Anatolia
The Seven Churches - Turkey Highlights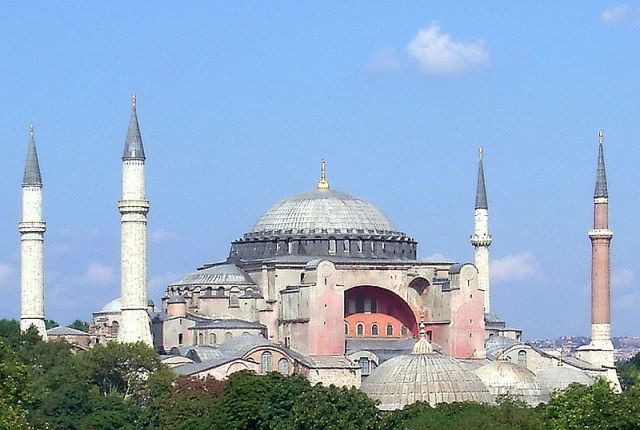 Tour date: All year around
Tour type: Private groups and individual
Tour price: Please contact us
Tour Photos
Tour Details
DAY 01- ISTANBUL
when you arrive in Istanbul international airport our coach will meet you and transfer to hotel, overnight stay in Istanbul. Dinner
DAY 02- ISTANBUL - ADANA
After breakfast we discover highlight of Istanbul; we visit Topkapi palace. Then we visit hippodrome. Other stop is the Blue Mosque is one of the most prominent landmarks of Istanbul. After lunch we visit Hagia Sophia museum. End of the tour we drive to the airport and flight to Adana for overnight stay in. Breakfast Lunch Dinner
DAY 03- ADANA - ANTIOCH
After breakfast we depart for Antakya (Antioch on the Orontes) this is where the followers of Jesus were first called Christians (Acts 11; 26). Then we visit St. Peter's Grotto and the fabulous mosaic museum. After lunch drive to Adana for overnight stay in. Breakfast Lunch Dinner
DAY 04- ADANA - TARSUS - CAPPADOCIA
After breakfast we depart for Tarsus where Paul was born, a very little remind in Tarsus today of the city where Paul lived, seeing St. Paul and Cleopatra arch. Continue to Cappadocia. We have lunch on the way. Dinner and overnight. Breakfast Lunch Dinner
DAY 05- CAPPADOCIA
We remain in Cappadocia to visit Goreme open air museum, churches and frescoes, after lunch visit Uchisar castle, Pasabag valley, Pigeon valley and onwards to Avanos. (In the evening Turkish Night as optional). Breakfast Lunch Dinner
DAY 06- CAPPADOCIA - KONYA
After breakfast we depart for Konya. We visit en route Kaymakli and its underground city, Ihlara valley and Sultanhan caravanserai. We have dinner at hotel in Konya and overnight stay in. Breakfast Lunch Dinner
DAY 07- KONYA - ANTIOCH - ANTALYA
After breakfast early morning we have sightseeing of Konya the ancient Iconium. They had to flee, though not much of the city from Paul's time is left. Konya is still spiritually important as the center of the Whirling Dervishes who preach friendship, tolerance and divine love. Visit the monuments of this mystic order. After lunch drive to Antioch of Pisidia where St. Paul preached his first recorded sermon and was expelled from the city. Visit the ruins of the two Basilicas. Drive to Antalya (Attalia) for dinner and overnight. Breakfast Lunch Dinner
DAY 08- ANTALYA - PERGE - ASPENDOS - ANTALYA
After breakfast we depart for Perge and Aspendos where Paul and Barnabas stopped over on their way to and from Antioch. After lunch we return to Antalya for dinner and overnight stay in. Breakfast Lunch Dinner
DAY 09- ANTALYA - COLOSSAE - LAODICIA - PAMUKKALE
After breakfast in the morning we depart for Colossae (Famous is St. Paul's letter to the Colossians) to visit the Byzantine wall and some remaining ruins. After lunch continue to Laodicea one of the Seven Churches, visit the Odeon, the theatre and gymnasium, continue to Pamukkale (Hierapolis) for dinner and overnight stay in. Breakfast Lunch Dinner
DAY 10- HIERAPOLIS - PHILADELPHIA - SARDIS - THYATIRA - KUSADASI
After breakfast, we visit Hierapolis with its Necropolis, baths, theatre. Continue to Philadelphia, the city of brotherly love, and then continue to Thyatira, after lunch we continue to Sardis capital of ancient Lydia, visit the temple of Artemis and Diana (which became a Church), the Synagogue and the Gymnasium. The position of Sardis as one of the Seven Churches identifies its varied religious significance. Drive to Kusadasi for dinner and overnight stay in. Breakfast Lunch Dinner
DAY 11- KUSADASI - EPHESUS - MILETUS - KUSADASI
After breakfast we visit Ephesus (Theatre where St. Paul preached to the Ephesians, Library, Odeon, Double Church where the Third Ecumenical Council was held in 431 and the Marble Road). Then we visit the House of Virgin Mary and St. John's Basilica. After lunch we will continue to Miletus, one of the principal Ionian cities and home of Thales which was twice visited by St. Paul. We return to Kusadasi for dinner and overnight stay in. Breakfast Lunch Dinner
DAY 12- KUSADASI - IZMIR - PERGAMON - ASSOS
After breakfast, we depart for Izmir, we have a short city tour of Izmir the ancient Smyrna and one of the oldest continued inhabited church of the revelation visiting mount Pagos where Polycarp was martyred. Then we continue to Pergamon to see the Asclepion and the Acropolis; John denounced it as throne of Satan in his reference to Pergamon church members. After lunch, we will visit the Asclepion, the medical center of the ancient world. We drive to Assos for dinner and overnight. Breakfast Lunch Dinner
DAY 13- TROAS - TROY - ISTANBUL
After breakfast, we visit Alexandria Troas, visited at least twice by St. Paul, Lunch then legendary Troy. Drive to Istanbul via Canakkale; Farewell meeting. Breakfast Lunch Dinner)
DAY 14- ISTANBUL
Continue with the Istanbul extension or transfer to the airport for flight home. Breakfast
 

Biblical References
Antakya (Antioch)
Seleucia Pieria
Tarsus
Derbe
Lystra
Konya (Iconium)
Antioch of Pisidia
Antalya (Attalia)
Perge(Perga)
Myra
Patara
Miletus
Colossae
Hierapolis
Assos
Alexandria Troas


:
:
:
:
:
:
:
:
:
:
:
:
:
:
:
:


Acts 6:5; 11:19-30 13:1-3 15:1-2, 22-35
Acts 13:4
Acts 9:11,30,11:25.21-39,22:3,25-29
Acts 14:6,20-21,16:1,20:4
Acts 14:6-23 16 :1-4 II Timothy 3:11
Acts 13:51;14:1-6, 19; 16:2, II Timothy 3:11
Acts 13:14-52, II Timothy 3:11
Acts 14-25
Acts 13:13-14;14:25
Acts 27:5-6
Acts 21:1-2
Acts 20:15-38 II Timothy 4:20
Colossians
Colossians 4:13
Acts 20:13-14
Acts 16:8-11, 20:5-12
II Corinthians 2:12-13
II Timothy 4:13
WHAT IS INCLUDED?
* Arrival, departure airport transfers and ground transportation.
* Transportation in non-smoking mini/midi bus with professional English speaking guide and experienced driver.
* All accommodation at selected category 3/4/5 star or boutique hotel
* All of the excursions mentioned in the schedule 
* All of the meal mentioned in the itinerary (B-breakfast, L-lunch & D-dinner)
* Entrance to the various sites
* Services charges and local taxes
WHAT IS NOT INCLUDED?
* Tips to staff, items of a personal nature.
* Drinks with meals (except the drinks served with breakfast).
* Domestic and International flight tickets.